Building a Robust Tax Strategy
When it comes to taxes, it's all about what you keep, not what you make.
At Client First Capital, we work closely with our clients and alongside their CPAs to ensure a robust tax strategy is in place. Our integrated approach to wealth management lies at the intersection of investments, taxes and estate planning.
In our new PDF guide titled, Top 5 Tips to Minimize Taxes on Investments During Retirement, we provide practical guidance and information on:
Taking advantage of long-term capital gains
Better understanding investment turnover
Leveraging lot-specific accounting
Understanding which investment accounts are best to purchase securities
When to use tax loss harvesting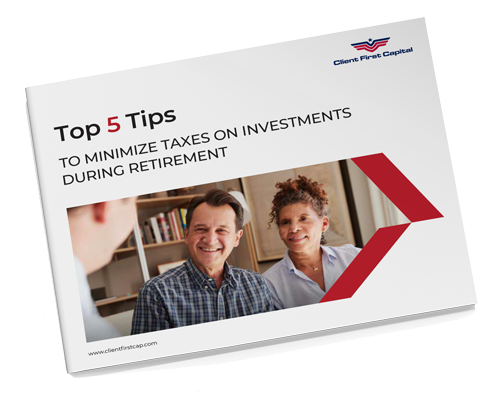 To download the PDF guide, please complete the form.
And, if you would like to setup a complimentary wealth strategy review, let us know.
We respect your privacy and we do not share your information with other parties.
Client First Capital is a San Diego-based financial firm provide financial advice, wealth management, and family office services. We are committed to protecting and sustaining your wealth and financial wellbeing for multiple generations through our firm values of transparency, trustworthiness and thought leadership. As a family advisor, we specialize on providing multigenerational financial planning that is integrated with estate and tax planning.